Programs for Business Leaders
The Journey to Entanglement: A Leadership Program in Performance Excellence
This program is designed for business leaders and their employees who desire to build great companies, similar to the successful organizations highlighted in the book It's My Company Too! by Dr. Ken Thompson, Dr. Ray Benedetto, Tom Walter, and Molly Meyer.
The program is designed around the structure of the book and focuses on developing the leadership practices for performance excellence that create an entangled organization and achieve sustainable profits and growth.
Is your organization ready? Click here to take the readiness assessment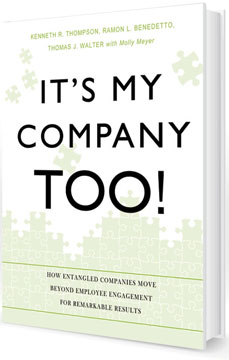 Why do you need this program?
Research has shown that engagement is insufficient for achieving organizational success. Companies must move beyond engagement for competitive advantage.
Engagement means being committed to something or someone in an organization, either through a rational commitment that sees one's job as serving a financial, developmental, or professional self-interest or an emotional commitment where one values, enjoys, or believes strongly in what one does. However, engagement occurs on an individual level and can be inconsistent throughout an organization.
Entanglement is a sustainable competitive advantage built on the constant drive for positive employee-company dedication and commitment at the deepest level.
Participants learn about entanglement through the stories of eight award-winning companies that represent diverse industries such as construction, healthcare, manufacturing, and more. The subtitle of the book says it all: How Entangled Organizations move beyond engagement for remarkable results.
In contrast, entanglement is an extremely strong positive and collective force that permeates an entire organization. It generates magnetism that draws and holds people together. Entangled employees are never satisfied with simply being good; they constantly seek to be great. Entangled employees focus on making collaborative decisions that yield the best possible results for the organization.
Employees devote their discretionary thinking toward tough organizational issues and challenges rather than self-interests. Entangled employees see the world from a much broader perspective, approaching their work with a greater understanding of how performance on each job contributes to individual, team, and organizational success.
Click the links below for an overview of each of the seven workshops included within this program
Workshop 1: Program Introduction and Having Leaders Who Do Extraordinary Things
The main objective of this two-hour workshop is to introduce the overall program and define the importance of performance excellence and entanglement in building sustainable profits and growth. The foundation for an entangled organization begins with the Fertile Ground for Capitalism, which is explained and becomes an underlying theme of subsequent workshops. Participants learn the differences between change leaders and good managers as well as begin the mindshift toward a leadership philosophy that empowers everyone to be a leader.
Workshop 2: Building an Ethical Organization
This two-hour workshop demonstrates the relationship of shared values with innovation and performance. Participants will learn the competences of a leader for fostering the fertile ground and entanglement.
"…A wonderfully written and informative guide on how leaders can help their organizations reach their full potential using eight critical elements as vividly described in real-world company examples."
NYT & WSJ Bestselling author Rich Horwath on It's My Company Too!
"…a true roadmap full of practical principles and insights, supported by evidence based research, on how engaged companies can be constructed. "
Executive Director Small Giants Community Raul Candeloro on It's My Company Too!
Workshop 3: Focusing All the Human Capital and Using Processes to Guide Performance
This two-hour workshop demonstrates how organizational purpose inspires and focuses people for innovation and growth. This workshop addresses the critical role of processes in developing, supporting, and sustaining an entangled organization and performance excellence. Participants will learn how organizational purpose fosters entanglement and discretionary thinking and connects mission with core competence.
Workshop 4: Increasing Individual Self-Efficacy
This two-hour workshop describes how building employee self-efficacy and self-esteem strengthens character to support business success. The workshop focuses on how effective leadership styles and emotional intelligence foster an entangled organization.
Workshop 5: Giving Employees Freedom and Responsibility within A Culture of Discipline
This two-hour workshop builds on the framework of organizational purpose and processes and describes how empowering teams and sharing knowledge increases performance and innovation. This workshop begins the discussion that tracks through Sessions 5, 6, and 7 about leaders' responsibilities for defining, building, nurturing, and sustaining organizational culture.
"…challenges the convention of engagement and encourages us to integrate people into the very fiber of an organization's existence. It's an exploration you should not miss."
Dr. Gerald Hills, Turner Chair of Entrepreneurship, Bradley University on It's My Company Too!
"Employee engagement is critical to the performance of businesses, and the authors provide specific and useful ways of capturing this valuable resource."
Executive Director of the Beryl Institute Jason A. Wolf on It's My Company Too!
Workshop 6: Hardwiring Discretionary Thinking
This two-hour workshop describes how great leadership begins with great followership. The workshop focuses on actions leaders must take to encourage the hearts and souls of employees, through which they willingly engage and dedicate their discretionary thinking to address complex "sticky" problems and challenges. Participants will also learn why creating a High Reliability Organization (HRO) is essential for sustainable business success.
Workshop 7: Guiding the Transformation to Remarkable Performance
This two-hour workshop culminates the program and reviews the challenges and opportunities associated with transforming an organizational culture from its present state to being entangled. The workshop integrates all previous sessions into a complete tapestry of the entangled organization.