Molly Meyer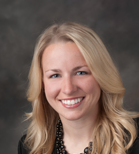 Molly Meyer is the creative director for Chicago marketing company nuphoriq. Her responsibilities include imagining creative strategies and campaigns and translating those ideas into material. In addition to working with a creative team, Molly also handles most of the creative writing.
When she's not working with her marketing team, Molly freelances and creative writes. She teamed up with Dr. Thompson, Dr. Benedetto and Tom Walter several years ago when the It's My Company Too project first surfaced, and since then she has taken both the professional and academic ideas from all three authors and streamlined them into compelling narrative.
While working on her Bachelor's degree in Marketing, Molly played centerfield for the Flyers varsity softball team. She captained the team for three of her four years, earning All-Atlantic 10 honors all four seasons and recognition by the Lowe's Senior CLASS Award her final year at Dayton. In addition to performance and leadership on the field, Molly earned Academic All-American honors as a student-athlete that excelled in the classroom, too. Molly served two terms as Vice President of the University of Dayton Optimist Club, an international volunteer organization dedicated to educating, inspiring and spending time with underprivileged youth of the surrounding chapter community as well as was the only undergraduate member of the University of Dayton: School of Law's Environmental Law Society.
For the past three years, Molly has nearly split her time in half between living in the continental United States and in Europe. She calls Sweden home when she's overseas, though she frequently travels throughout the continent during the summer months. While there, Molly both coaches and plays softball for the Swedish team of Leksand in addition to telecommuting regularly with her marketing company, nuphoriq, and producing freelance and other personal writing projects. While in the States, Molly also coaches softball for Elk Grove High School.