Workshop 2
Building an Ethical Organization
This two-hour workshop demonstrates the relationship of shared values with innovation and performance. Participants will learn the competences of a leader for fostering the fertile ground and entanglement.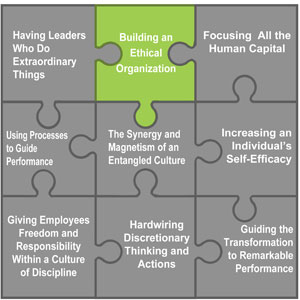 Key Learning Objectives in this workshop include:
Demonstrating the relationship of shared values, fertile ground, and entanglement with innovation
Defining core values that individual participants put into practice
For programs conducted within individual organizations, creating a set of shared values that become part of the organization's purpose
Identifying the critical leader competences that underpin high performance: Character, Emotional Intelligence (EI), Business Knowledge, and Critical Thinking
Linking and "connecting the dots" between leader competences, innovation, and sustainable profits and growth
Topics Addressed:
Character and leadership levels
Shared Values and Leader Competence
EI as it relates to character, and grassroots leadership
Leader Competences, specifically Character, EI, Business Knowledge, and Critical Thinking.
At the end of this workshop participants will have:
Completed a personal values assessment that identified their top five instrumental values
Identified two personal success stories on how they apply their values to achieve results at work
Completed an EI assessment that recommends strategies to improve EI
Selected two EI strategies to include in an Individual Leadership Development Plan
For this workshop, participant readings include Chapter 2 of It's My Company Too! and three relevant articles from leading business journals. Participants will also complete an EI assessment that is included in the program fee.
Email info@guidestarinc.com today to begin your quest for achieving an entangled, high-performing organization.