Workshop 4
Increasing Individual Self-Efficacy
This two-hour workshop describes how building employee self-efficacy and self-esteem strengthens character to support business success. The workshop focuses on how effective leadership styles and emotional intelligence foster an entangled organization.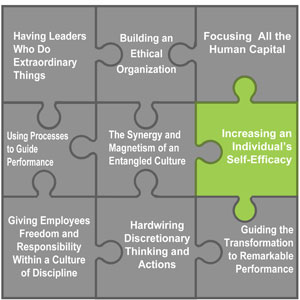 Key Learning Objectives in this workshop include:
Examining the varying dimensions of leadership performance and expectations at different organizational levels
Linking self-efficacy and self-esteem with character and leadership
Connecting Level 1, 2, and 3 leadership roles and responsibilities with innovation and growth
Connecting appropriate EI leadership styles and supportive leader behaviors with the Fertile Ground that nurtures and supports character-based capitalism.
Linking effective leadership with knowledge creation and sustainable growth.
Topics Addressed:
Fertile Ground for Capitalism and the Requirements for Fertile Ground
The Virtuous Cycle for Business
Alignment of Organizational Performance and Individual Performance
EI Leadership Styles
Building Trust through EI Leadership
At the end of this workshop participants will have:
Used the NLEN case study to examine EI leadership styles and organizational impact
Linked EI leadership competences and styles to performance
Connected EI leadership styles to character-based capitalism and innovation
Completed the Preferred Leadership Style – Online assessment
Updated their Individual Leadership Development Plans with knowledge gained through the exercises and assessments associated with this workshop
For this workshop, participant readings include Chapter 5 of It's My Company Too! and three relevant articles from leading business journals. Participants will also complete an online assessment of eight critical transformational leadership competences.
Email info@guidestarinc.com today to begin your quest for achieving an entangled, high-performing organization.