Workshop 1
Program Introduction and Having Leaders Who Do Extraordinary Things
The main objective of this two-hour workshop is to introduce the overall program and define the importance of Character-Based Capitalism and entanglement in building sustainable profits and growth. The foundation for an entangled organization begins with the Fertile Ground for Capitalism, which is explained and becomes an underlying theme of subsequent workshops. Participants learn the differences between change leaders and good managers as well as begin the mindshift toward a leadership philosophy that empowers everyone to be a leader.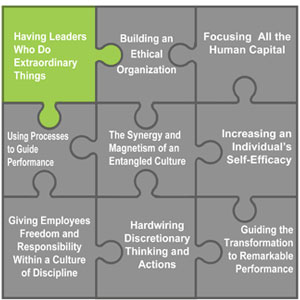 Key Learning Objectives in this workshop include:
Defining the importance of character-based capitalism and entanglement to sustainable profits and growth
Defining and clarifying differences between leadership and management
Comparing self-leadership to other leadership forms
Instituting personal changes in mindset to become an effective change leader.
Topics Addressed:
Leaders versus Managers
The Five Levels of Leaders
Strategic, Operational, and Grassroots Leadership Roles and Responsibilities
Visionary, servant leadership
Knowledge Creation and the Pace of Innovation
Leadership, alignment, integration, and entanglement, as evident in the case study at SRC
At the end of this workshop participants will have:
Identified and prioritized two ways to improve their personal Grassroots Leadership approach by allocating time to foster the fertile ground and entanglement
Begun to develop an Individual Leadership Development Plan that incorporates skill and knowledge gaps they need to close to improve leadership, personally and in their company
Begun the mindshift toward a leadership philosophy that empowers everyone to be a leader
For this workshop, participant readings include the Introduction and Chapter 1 of It's My Company Too! along with three relevant articles from leading business journals.
Email info@guidestarinc.com today to begin your quest for achieving an entangled, high-performing organization.