Workshop 7
Guiding the Transformation to Remarkable Performance
This two-hour workshop culminates the program and reviews the challenges and opportunities associated with transforming an organizational culture from its present state to being entangled. The workshop integrates all previous sessions into a complete tapestry of the entangled organization.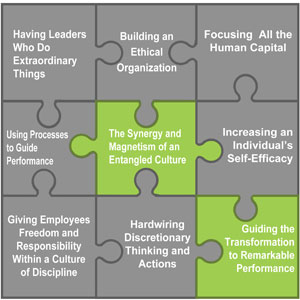 Key Learning Objectives in this workshop include:
Defining elements of organizational culture, specifically the artifacts that represent the underlying values, beliefs, and assumptions
Clarifying the relationships between cultural artifacts, core competences, and the competitive advantage of a company
Clarifying differences between alignment and integration and between entanglement and engagement
Clarifying operational leaders' roles in driving and supporting major organizational change along with the synergy and magnetism that develops as each component of the entangled organization is infused into a company's culture
Topics Addressed:
Discovering Organizational Culture
Kotter's "Master" Model for Major Organizational Change
Performance Excellence and the Fertile Ground
Triple Bottom Line (TBL) Performance and the Virtuous Cycle for Business
Integrating Culture with the Five Levels of Leadership
Transforming Company Culture
At the end of this workshop participants will have:
Identified specific leadership actions and behaviors that motivate others to build an entangled culture, using the Advocate Good Samaritan Hospital case study as a foundation
Gained a deep appreciation for the value of a strong change model for guiding organizational transformation
Established a foundation for building an entangled culture, linking core values to key artifacts and anchoring the artifacts in practices
Connected the dots across all seven workshops for building an entangled organization
Updated their Individual Leadership Development Plans for improving individual leadership behaviors, skills, and practices
For this workshop, participant readings include Chapters 8 and 9 of It's My Company Too! and three relevant articles from two leading business journals.
Email info@guidestarinc.com today to begin your quest for achieving an entangled, high-performing organization.