Workshop 3
Focusing All the Human Capital and Using Processes to Guide Performance
This two-hour workshop demonstrates how organizational purpose inspires and focuses people for innovation and growth. This workshop addresses the critical role of processes in developing, supporting, and sustaining an entangled organization and performance excellence. Participants will learn how organizational purpose fosters entanglement and discretionary thinking and connects mission with core competence.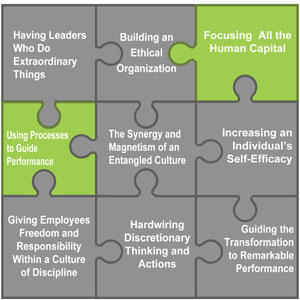 Key Learning Objectives in this workshop include:
Defining organizational purpose and linking it to sustainable profit and growth
Differentiating change leadership practices, which align and guide the organization for results, and change management practices, which organize the effective execution of tasks and responsibilities
Topics Addressed:
Organizational Purpose and Core Competence
Requirements for Innovation
Alignment of Organizational Performance and Individual Performance
Baldrige as a process view for managing change
Balanced Scorecard as a strategic process for managing change
At the end of this workshop participants will have:
Gained an appreciation of how companies like Midway USA use organizational purpose and strategic plans to (a) inspire, focus, and align individual actions with organizational goals and objectives, (b) recognize and reward performance, and (c) select employees and suppliers
Compared BSC with the Great Game of Business for understanding the business and guiding performance
Connected alignment, integration, and entanglement through the example of the Tarlton Corporation
Identified key practices in overcoming potential pitfalls in aligning structure and process
For this workshop, participant readings include Chapters 3 and 4 of It's My Company Too! and three relevant articles from leading business journals.
Email info@guidestarinc.com today to begin your quest for achieving an entangled, high-performing organization.