Tasty Catering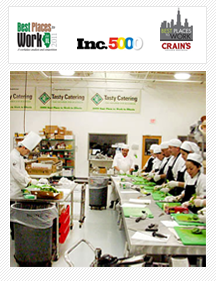 Tasty Catering is more than the typical catering company; it is really a service company that specializes in corporate catering, event planning, and event production. The company has been serving the needs of suburban Chicago organizations for over twenty years. With a strong, company-wide foundation in core values, all 250 full-time, part-time, and seasonal employees are committed to the same goals and morals. It's no wonder they've found success in their industry!
A growing reputation for quality food (actually, award-winning food!) and quality people (again, they, too, are award-winning!) has given Tasty Catering a set of very important market differentiators. Tasty Catering is the whole package, from delivering coffee and tea in the morning for a breakfast meeting, all the way up to planning and executing a thousand-person, grilled, on-site picnic. They populate each and every event they perform with exceptional food and exceptional staff, from the initial order all the way to the cleanup.
To an outsider, Tasty Catering is certainly a customer-focused organization. Internally, Tasty Catering staff members know the real reason they're able to focus on the customer with such veracity. Inside the building walls, Tasty Catering operates less like a business and more like a family; a family that openly supports each other in all aspects of life. Because management levels look out for all employees' general well-being and happiness, employees are able to focus 100 percent on pleasing the customer, giving them the time, energy, and tools to go above and beyond the standard demands customers have for a catering company.
The company has garnered a reputation in the Chicago area for excellent food, excellent service, and excellent execution. The journey on which a catering order travels goes much deeper than it might seem to someone unfamiliar with the depth of quality Tasty Catering brings to this industry.